Virial International, LLC is the only provider of innovative scientific software and services for radiometric community. Our company is oriented on support of advanced research involved precision measurements of optical radiation and has a great experience in co-operation with world leading metrological centers, governmental agencies, universities, and industrial companies.

Created in 2000 as Virial, Inc., the company has been transformed into Limited Liability Company 04/20/2011. Virial, Inc. was a developer of STEEP3 program, which became de facto standard software for numerical modeling of radiation characteristics of blackbody calibration sources. This program and its successors is based on the proprietary Monte Carlo algorithm and used in national metrological centers of USA, UK, Germany, Canada, Japan, France, the Netherlands, Russia, Spain, Finland, South Korea, R. P. China, Taiwan, Mexico, and others.


Dr. Prokhorov lives in the USA since 1999; he is the member of the Optical Society of America. In 2000-2009, he worked as a guest researcher in the Optical Technology Division of the National Institute of Standards and Technology (Gaithersburg, MD).

Dr. Prokhorov established Virial, Inc. in 2000; it was transformed into Virial International, LLC in 2011. Currently, Dr. Prokhorov continues his research in the area of computational problems of optical radiometry, radiation thermometry, and photometry. Inter alia, he works on the new program for computer modeling of integrating spheres and develops various BRDF models suitable for Monte Carlo modeling of optical radiometry problems.

See Dr. Alexander Prokhorov's profile on LinkedIn.
Virial's founder and president, Dr. Alexander Prokhorov obtained his master's degrees with honor in Physics (Saratov University, USSR) and in Measurement Systems (Kiev Polytechnic Institute, USSR). He started working in such areas of optical radiometry as pyrheliometry, measurements of spectral radiance and spectral irradiance of thermal radiation sources, measurement of physical properties of absorbing materials for optical radiation detectors, uncertainty analysis and evaluation, and numerical modeling of measuring devices and processes.

His Ph.D. work was dedicated to optical and thermophysical properties of cavity sources and detectors of optical radiation (Moscow, 1989). In 1980ths, he participated in design and metrological certification of national radiometric and photometric standards of the former USSR; later, he worked for National Physical Laboratory (UK) and National Institute of Standards and Technology (USA). Dr. Prokhorov is the solo creator of the first program for Monte Carlo calculation of effective emissivities of nonisothermal blackbody cavities. He is world-recognized expert in theoretical and computational problems of optical radiometry.
---
Here you can find anything but complete list of scientific and technical publications for which the results were obtained using Virial's software and/or using Virial's research and development. The annotated Virial's Project Portfolio demonstrates in brief the far incomplete range of projects that our company has developed since its inception in 2000.

Virial International permanently improves existing software and develops new programs which cover various topics of optical radiometry, photometry, and radiation thermometry. Software developed by Virial is not only programs for sophisticated calculations but indispensable tools for scientific research.

All Virial's developments are based on the knowledge and more than twenty-five-year experience in the optical radiometry of company's founder and president, Dr. Alexander Prokhorov.
Gaithersburg Award Program Honors the Achievement

GAITHERSBURG August 10, 2012 -- Virial International, LLC has been selected for the 2012 Best of Gaithersburg Award in the Scientific Services and Software Development category by the Gaithersburg Award Program.

Each year, the Gaithersburg Award Program identifies companies that we believe have achieved exceptional marketing success in their local community and business category. These are local companies that enhance the positive image of small business through service to their customers and our community. These exceptional companies help make the Gaithersburg area a great place to live, work and play.
Various sources of information were gathered and analyzed to choose the winners in each category.
---
The 2013 Gaithersburg Award Program focuses on quality, not quantity. Winners are determined based on the information gathered both internally by the Gaithersburg Award Program and data provided by third parties.

About Gaithersburg Award Program

The Gaithersburg Award Program is an annual awards program honoring the achievements and accomplishments of local businesses throughout the Gaithersburg area. Recognition is given to those companies that have shown the ability to use their best practices and implemented programs to generate competitive advantages and long-term value.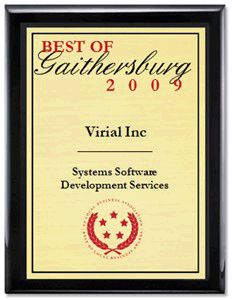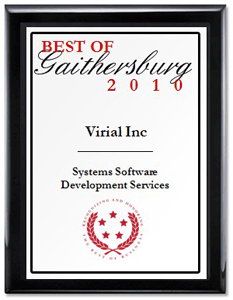 The Gaithersburg Award Program was established to recognize the best of local businesses in our community. Our organization works exclusively with local business owners, trade groups, professional associations and other business advertising and marketing groups. Our mission is to recognize the small business community's contributions to the U.S. economy.

CONTACT:
Gaithersburg Award Program
Email: PublicRelations@awardprogram.org
URL: http://www.awardprogram.org